A place where nothing
It's impossible...







A place where nothing
It's impossible...
Welcome to "LA

NUOVA

SARTORIA"


In Milan La Nuova Sartoria, rental and production of costumes for the show, carnival costumes, evening dresses and for special occasions, rental and sale of tuxedos, suits and tailcoats. Repairs and tailoring interventions on evening dresses Man/Woman.

The pleasure of dressing a "UNIQUE GARMENT!"
When I got to know the job of costume designer, I dreamed of doing nothing else in my life but to deal with costumes, and surround myself with colors and creativity.
A long and complex path that took shape in "LA NUOVA SARTORIA", a creative workshop where you can buy, rent or customize evening and ceremonial dresses, costumes for entertainment, theater, cinema, television, advertising, events and special occasions.


Our Atelier is a place where you can satisfy one of the oldest passions in the world, camouflage.....

Nadia Venegoni, founder

FUORI DALLA SCENA, DENTRO L'ARCHIVIO
Un progetto digitale della NUOVA Sartoria

La pausa forzata della pandemia ci ha dato modo, e soprattutto tempo, per riprendere in mano i nostri sogni.
Tra questi la realizzazione di un archivio digitale, che potesse fornire a tutti la possibilità di vedere on-line gli abiti delle nostre collezioni...

Leggi tutti i dettagli nella news
Services for Individuals and Companies
Rental and Sale of Men's and Women's Dresses, Repairs and Tailoring Intervention
Why go to La

Nuova

Sartoria ?
Care and Attention
The high level of tailoring expertise reached by the staff of "La Nuova Sartoria", allows our customers to make any type of customization and modification on their clothes and / or those proposed by the Tailoring. In particular, we highlight the service of restoration and modernization of precious but outdated garments that, thanks to our interventions, will return to be current and reusable.

Contact us with confidence and book an appointment. We will certainly be able to advise you.
Accessories Assortment
La Nuova Sartoria, with its vast repertoire of Pia Rame costumes and accessories, and continuously adapted and renewed over time, is a strategic reference point for the entertainment world. All costumes are unique garments, designed by Italian and foreign costume designers for famous actresses/actresses, dancers, soubrettes, musical groups.
La Nuova Sartoria boasts important collaborations with the main television media, theatres, production companies, advertising and events agencies, stylists, costume designers, photographers.

All this heritage is also available to private individuals, who can use the sales and rental services of "La nuova Sartoria" for important occasions and theme parties.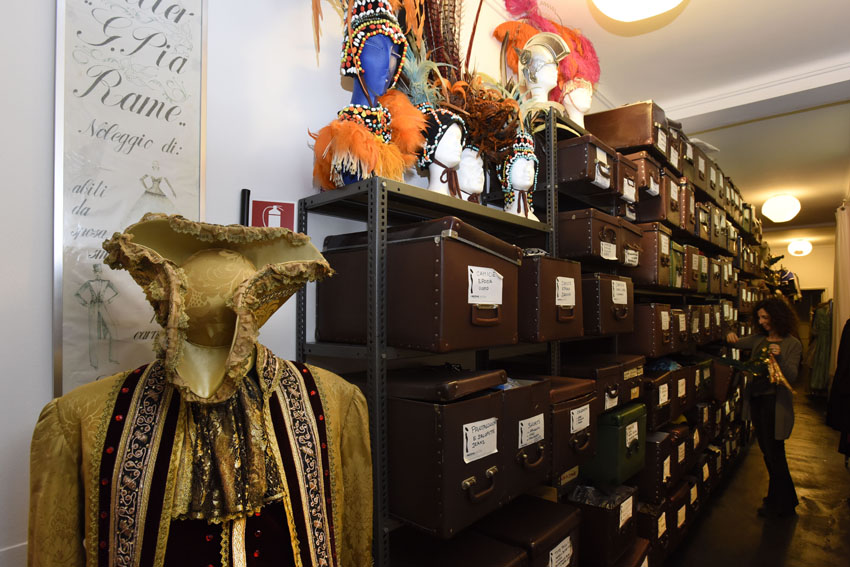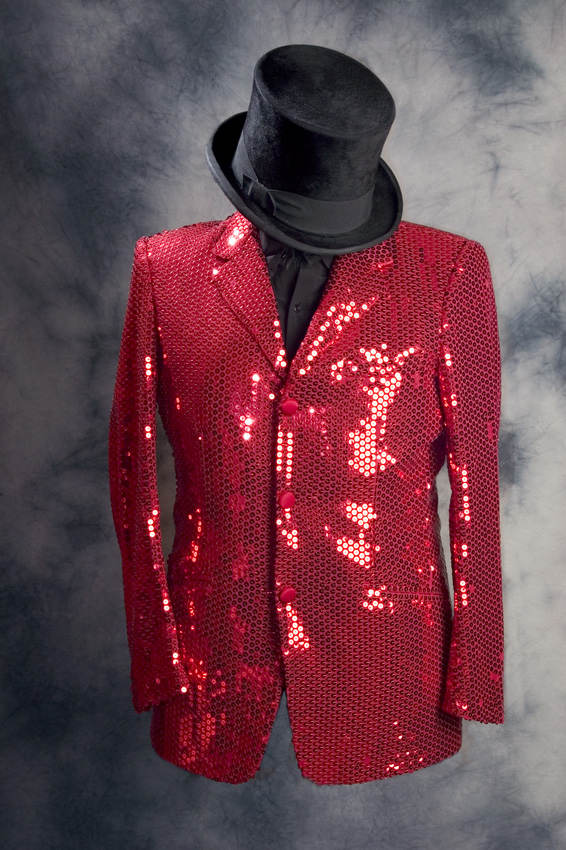 The Originality
La Nuova Sartoria is distinguished by the care, passion and originality that only a tradition of craftsmanship can put into every single garment. We have such a professionalism that allows us to respond to special requests, such as the creation of personalized and tailored clothes for the most varied occasions.
We use only high quality materials and precious fabrics to satisfy any need and request.

Do you have a dream to realize, are you looking for a unique and special garment? Come and visit us, we will surely find the right outfit for you.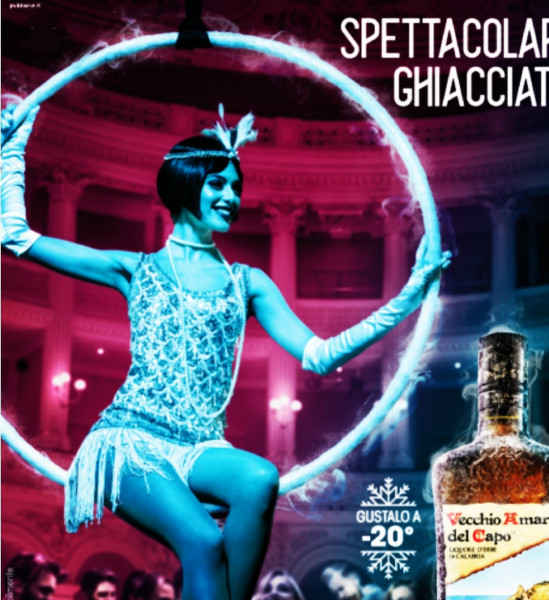 Anyone can have a need for theatrical tailoring... Let's satisfy the whole world of Creativity!
From advertising to events, from festivals to theme parties, theatre shows, burlesque, carnival, Halloween, not forgetting ceremonies and weddings...

The latest advertising campaigns realized with our costumes: Amaro Lucano, Planetwin365, Birra Moretti, Wycon Cosmetics, Elem Ice, Prosecco Sant'Orsola.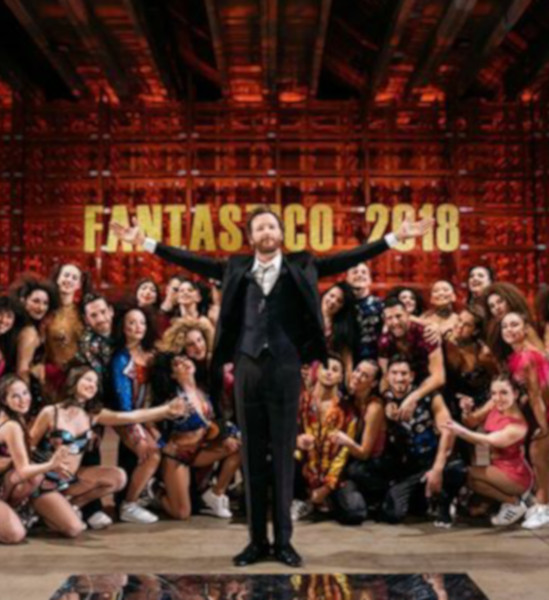 The world of music! There are many collaborations with different artists for the realization of music videos, photo shoots and events.




We collaborated with Jovanotti, for video and cd, the Pooh, Loredana Bertè, Rezophonic, Gue Pequeno for the music video with El Micha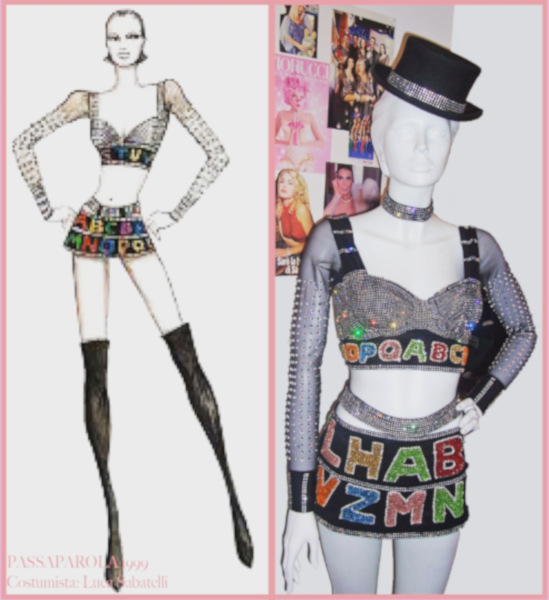 Television has been one of our strengths for many years. We are the history of television in Milan. We have made many costumes for famous television programs, games, variety shows and cinema.



Costumes made for: Paperissima, Striscia la notizia, Chiambretti Night, La Repubblica delle Donne, Caduta libera, Fratelli di Crozza, Che tempo che fa fa